Wisdom Tooth Extraction – Westfield, NJ
Stopping Extra Teeth from Damaging Your Smile
At some point in your life – usually between the ages of 17 and 25 – you'll have to determine whether or not your wisdom teeth need to be removed. When that day comes, Dr. Weinman will be here to help; he can take X-rays of your mouth and determine whether or not the wisdom teeth will cause problems when they attempt to erupt. He can also refer you out to an oral surgeon who can handle the removal process. Call us today if you or a loved one needs answers about wisdom teeth.
What are Wisdom Teeth?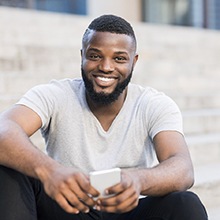 The wisdom teeth are also called third molars. Like your first and second molars, they erupt near the back of the mouth. However, they emerge much later than the other teeth, and when they do, there's very little room for them to try and fit into the rest of the grin. Wisdom teeth may have been beneficial for ancient humans who were more prone to losing teeth early in life, but today they serve no practical purpose for most people, meaning they almost always do more harm than good. The problems caused by wisdom teeth can range from minor to severe, and they will almost certainly get worse as time passes.
Why Do Wisdom Teeth Need to Be Removed?
If there's enough room in the mouth, sometimes wisdom teeth actually can erupt properly, in which case they may not have to be removed at all. That said, most of the time wisdom teeth are unable to fully emerge from the gums and become impacted. The result is that you're likely to experience a number of symptoms, including:
Constant pain near the back of your mouth
A feeling of persistent pressure on your back teeth
A misaligned bite
Signs of an infection such as oral pain, swelling, and fever
Having the wisdom teeth removed is the most reliable way to stop these issues.
What to Expect from the Wisdom Teeth Procedure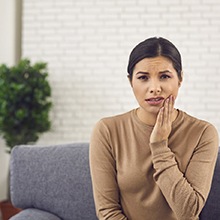 You'll be given instructions on how to prepare for wisdom tooth extraction, which might include finding a responsible adult to drive you home after your appointment. On the day of the procedure, your mouth will be numbed, and you'll be sedated so that you don't feel anything during the extraction. The oral surgeon will then open your gums to access the wisdom teeth. In order to remove them, they will likely have to be divided into a number of smaller sections first. Doing so allows makes it possible to minimize the amount of bone that has to be removed during the surgery.
Recovering from Wisdom Teeth Extraction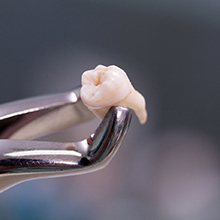 During the first day of your recovery, you can take antibiotics and anti-inflammatory medications to deal with the pain, and you can apply an ice pack to the area at 20-minute intervals. You can brush your teeth, but you'll have to be careful to avoid the surgical site. Stick to a liquid only diet during the first day; on the second day, you can start eating soft foods such as scrambled eggs and mashed potatoes. As time passes, you can introduce heartier foods into your diet as you feel comfortable doing so.