Dental Implant FAQs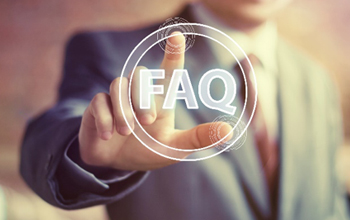 What is a dental implant?
A dental implant is a small titanium post that is placed directly into the jawbone in order to mimic the root structure of a lost tooth. This can then be attached to a number of prosthetics that can replace a single tooth, multiple teeth, or even an entire row of teeth.
How do dental implants compare to traditional bridges and dentures?
Because implants restore the entire tooth structure, they provide a much more stable prosthetic compared to other tooth replacement options. Plus, thanks to the high quality materials used, they are able to better resemble natural teeth and can be expected to last for 30 years with the proper maintenance.
What is it like getting dental implants?
The procedure to get dental implants involves two phases: placement and restoration.
Placement involves a minor surgery where the implant post(s) will be positioned within your jawbone. Unlike other dental offices, Dr. Weinman can actually handle this procedure in-house, saving you from having to see an outside specialist. Afterward, you'll be given about 3-6 months to heal.
Then, you'll return to our office for restoration, where Dr. Weinman will fit your replacement teeth to the implants, completing your new smile.
Does dental implant surgery hurt?
Most patients experience little to no discomfort during or after the placement procedure. A little swelling is common, but this can be easily managed using over-the-counter pain medication.
How soon can I go back to work after having dental implant surgery?
Depending on the complexity of the surgery, you may be able to resume your normal routine the same day, but some patients require about two to three days of rest if the procedure is more involved. Dr. Weinman will advise you on what is best.
How long does it take to get dental implants?
This can differ greatly from patient to patient, with simple cases taking as little as 6 months and more complicated ones taking well over a year. Dr. Weinman can give you a better idea of what to expect during your initial consultation.
Are dental implants right for me?
This will be determined based on your oral health, overall health, as well as the height and thickness of your jawbone (implants need a certain amount of healthy bone to be safely placed). Dr. Weinman will discuss if dental implants are right for you during your initial consultation.
How much do dental implants cost?
There is no "fixed" price for dental implants as each patient will have different needs depending on how many teeth they want replaced. On average, restoring a single tooth with an implant can cost about $1,000-$3,000. While this might be more upfront compared to other treatments, dental implants tend to be the better financial decision due to their longevity, able to last decades while other treatments need to be replaced every 5-7 years.
Will my dental insurance cover dental implants?
This will all depend on your particular plan. Most policies do not cover dental implants because they are considered an elective procedure, but your general health insurance may be used to offset some of the surgical costs. To see if you're covered or not, the best thing to do is talk directly with your provider.