Dental Implants – Westfield, NJ
Restore Your Smile and Your Self-Confidence!
For people who have missing teeth, the challenges can be large and varied. Of course, what most affects people with tooth loss is just the knowledge of what others see—a gaping hole in your smile. This often leads to a compromised sense of self-confidence and self-esteem. In addition, tooth loss—even one missing tooth—can cause some degree of malnutrition. Foods such as fresh fruits and vegetables can be difficult to eat without all of your teeth. Finally, tooth loss can affect your ability to speak clearly—another factor that can contribute to reduced self-confidence at work, school, or leisure.
While a bridge or denture can restore some of the function and appearance of your missing teeth, they only rest atop your gums. As a result, many patients with these oral prosthetic devices experience deterioration of jawbone tissue that can lead to changes in facial structure that age a person's appearance. In addition, you may miss the permanence and confidence of your old teeth. Fortunately, Dr. David Weinman is certified in dental implants and can restore your missing teeth with this comfortable, permanent treatment. Please contact our Westfield, NJ practice today to schedule your first appointment with our dedicated team. New patients from Springfield, NJ and surrounding areas are always welcomed.
How Do Dental Implants Work?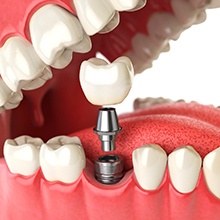 Dr. Weinman has the specialized training and expertise necessary to provide dental implants. This expertise includes every step of treatment, including surgical placement and restoration. Once the implant (the titanium post) has fully integrated with your bone, he can begin fabricating your restoration. The implant is placed using the office's state-of-the-art computer guidance software, ensuring the best placement and adhesion of tissue and bone possible. After healing, you'll return to the office to have your custom-made restoration placed, effectively restoring your smile.
Benefits of Dental Implants in Westfield
Unlike traditional bridges and dentures, dental implants work to replace the root and visible crown in your smile. This integration prevents the deterioration of alveolar bone, which is essential to keeping your biting force strong and preventing your jawbone from shrinking. Dental implants are also designed to last for several decades when properly cared for, unlike bridges and dentures which require replacement every several years.
You can also expect a very high success rate with dental implants. Clinical studies have shown implants to see success rates as high as 98 percent, even after a 10-year period.
Indications for Dental Implants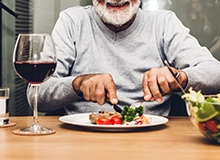 Dental implants are one of the most versatile tooth replacement options out there. Whether you're missing one tooth or an entire arch, they can make it possible for you to chew, speak and smile with ease again.
Missing Single Tooth
A single tooth is replaced via a single implant, porcelain crown and abutment, which keeps the two components attached.
Missing Multiple Teeth
Similar to a traditional bridge, two and four teeth can be replaced via an implant-retained bridge. Instead of buffing down natural teeth to anchor a bridge, an implant is placed on either side to hold the restoration. That means you can replace several teeth at once even if you're only using two implants.
Missing All Teeth
With an implant-retained denture, also known as an All-on-4 denture, you can replace an entire arch of teeth or provide improved stability to your current restoration.
Understanding the Cost of Dental Implants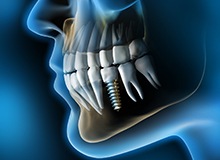 Your dental implant treatment will not look the same as another patient's as each individual's needs are different. Many factors can influence the cost, including the type of restoration used, the number of implants you're receiving, the preparatory treatments necessary to make implant possible (i.e. bone grafts and sinus lifts) and other factors.
However, it's important to note that dental implants are considered a long-term investment. Their longevity and durability makes them the most cost-effective option for replacing teeth.