Correct Dental Damage with Custom Inlays & Onlays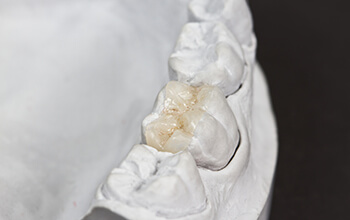 Sometimes, a cavity or cracks in your teeth cannot be fixed with a traditional filling, and a crown may be more than you need. Fortunately, our practice offers porcelain inlays and onlays as alternative treatments to these traditional solutions. With inlays, Dr. David Weinman will shape porcelain to fit a cavity that cannot hold a filling. When you damage the surface of your tooth but the interior is healthy, Dr. Weinman can use an onlay, a tooth-shaped restoration, to cover the damage and protect the tooth.
Since inlays and onlays bond directly to the tooth, they are very durable and strengthen teeth more than their traditional counterparts. Dr. Weinman also doesn't need to remove as much tooth structure as traditional fillings or crowns require. More importantly, inlays and onlays are indistinguishable from your surrounding teeth, creating a flawless smile. If you'd like to learn more about inlays and onlays from our team or if you're ready to schedule an appointment, don't hesitate to contact our Westfield, NJ office. New patients from Cranford, NJ and surrounding areas are always welcome.