Brighten Your Smile with Teeth Whitening
If your teeth are dingy or dull in color, you may be reluctant to smile out of embarrassment. That's no way to live! If you'd like whiter, brighter teeth that you'll be proud to show off in photos and in social settings, then ask Dr. David Weinman about teeth whitening services at our Westfield dental office. As the most popular cosmetic dentistry procedure, teeth whitening has provided younger, fresher smiles to countless patients across the globe. Dr. Weinman and our team look forward to delivering the same great results for you. Please contact us today to schedule a visit here in Westfield, NJ! Our practice is open to patients from Scotch Plains, NJ and surrounding areas.
How Did My Teeth Become Stained?
That's a tricky question to answer with certainty, because a wide variety of day-to-day factors lead to discoloration. From the beverages you drink to the medicines you take, your lifestyle could be affecting your teeth more than you might think. Common culprits include red wine, coffee, cigarettes, and certain types of antibiotic medications.
Thankfully, our team can safely and easily whiten your teeth. We offer two methods of teeth whitening:
In-Office Teeth Whitening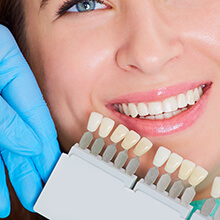 This simple and painless treatment option can eliminate even deep staining from tooth enamel and create a gorgeous, bright smile over the span of a single appointment. Instead of relying on lackluster, over-the-counter products from the local store, talk to Dr. Weinman about the possibility of undergoing custom whitening trays today for results that exceed expectations.
After we've determined that our custom whitening option is the right whitening system for your unique smile needs, you'll be made to feel comfortable in our treatment chair as we cover the gum tissue and lips with protective coverings. Then, the whitening gel is directly applied to the tooth surfaces, where an advanced, low-heat light will activate its ability to penetrate your tooth enamel and eliminate discoloration and stains. After this process is complete, a fluoride treatment is applied as a final touch. That's all it takes!
Most patients will be able to enjoy a smile that's 6-8 shades whiter overall. In fact, some people notice that their teeth become even brighter over the days immediately following their treatment. The results should last for years, and if you find yourself in need of a touch-up, Dr. Weinman can provide a take-home kit.
Take-Home Teeth Whitening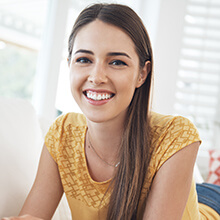 Of course, some patients may prefer to achieve more gradual smile improvements, or maybe they'd rather undergo treatment in the comfort of their own home and on their own personal schedule. In this case, our team can offer a take-home whitening kit! All the patient needs to do is wear their custom oral trays and high-grade whitening gel together for a certain amount of time each day. After a few weeks of diligent use, their smile should appear noticeably brighter and stain-free.