Dr. Weinman Provides Revitalizing Gum Disease Therapy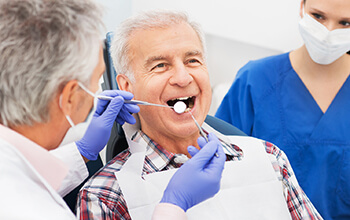 Healthy gums play a significant role in your dental health. When you don't brush or floss properly, you can develop gum disease, a serious condition that causes tooth loss and has been linked to diabetes, heart disease, and other illnesses. Thankfully, Dr. David Weinman can detect and treat gum disease in the early stages as well as when you need more advanced care. Please contact our Westfield, NJ location today if you have any questions for our team, or if you're ready to schedule your first appointment. We see new patients from Scotch Plains, NJ and surrounding areas!
Our available therapy services include:
Scaling and root planing is an in-depth cleaning that removes infectious bacteria from below the gum line and along the rough surfaces of tooth roots. Our team will also smooth the roots in order to prevent further accumulations.
Soft tissue laser therapy can eliminate diseased tissue in a very precise fashion while also encouraging the growth of new, healthy tissue in its place.
Arestin is an antibiotic powder that can be placed directly in the diseased periodontal pocket to stop infection and help heal your gums.