Porcelain Crowns in Westfield
You may have an existing crown, a tooth-shaped restoration that completely covers a natural tooth, in your mouth. If so, you know how well crowns can strengthen weakened or fractured teeth and improve the overall appearance of a tooth by masking imperfections. What you may not know is that Dr. David Weinman can create beautiful, natural-looking porcelain crowns that are indistinguishable from your surrounding teeth. If you're in need of a dental crown, it's time to schedule your consultation with Dr. David Weinman by calling our Westfield, NJ dental office. Our office welcomes patients from Scotch Plains, Fanwood, Cranford, Mountainside, and surrounding areas. Our team looks forward to meeting you!
What are Crowns?
Dental crowns are advanced restorations used to repair lost tooth structure following severe decay or damage. Crowns fit completely over the top of a damaged tooth, protecting remaining healthy structure and strengthening the smile. We may recommend dental crowns in any of the following situations:
Severe decay or damage too advanced for restoration with more conservative solutions like tooth-colored fillings.
If you have an older crown with a tell-tale black line, Dr. Weinman can replace that crown with a metal-free porcelain one that matches the rest of your teeth. When you smile and look in the mirror, you will be pleased to see no lines in your natural, healthy-looking smile.
Patients who want to improve the cosmetic appearance of flawed teeth may also benefit from all porcelain dental crowns to correct or conceal cosmetic flaws like cracks, chips, stains, and gaps in teeth.
Following a root canal procedure, we may recommend a dental crown to protect and strengthen the treated tooth.
What is the Difference Between a Crown & Filling?
Fillings are used to repair smaller areas of damage and decay. They are typically crafted from composite resin materials, though porcelain fillings are available as well. Like porcelain dental crowns, composite resin fillings blend seamlessly into the natural smile line. Unlike porcelain, composite resin does absorb staining materials, and it will need to be repaired or replaced over time. Filling materials also wear away more quickly than porcelain crowns, so for more advanced dental chips, cracks, and decay, a tooth-colored filling is not the best repair option. Instead, a flawless porcelain crown can be used to fully restore even the most damaged smiles.
How Much do Crowns Cost?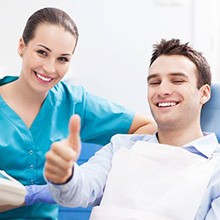 The cost of your dental crown will depend on your unique case and the materials you choose. Most dental insurance providers cover part of the cost of your treatment, and we'll be happy to process and file your dental insurance claims to maximize these benefits. Before we begin your dental crown restoration, we'll walk through the costs of every step of treatment and help you plan to fit the costs of care into your budget.
How Are Dental Crowns Placed?
Dental crowns are placed over the course of two appointments in our dentistry practice. We begin by numbing the area around the tooth to be treated. Then, we remove any damaged structures and reshape the tooth, allowing the crown to fit into the natural smile line. Once the tooth is prepared, we capture impressions that are used by our dental lab to craft your custom restoration. To protect your smile while the lab crafts your restoration, we place a temporary dental crown. When we receive the dental crown from our lab, you'll return to the office to exchange your temporary for a custom dental crown. Once in place, your dental crown will fully renew the form and function of your damaged smile.