Digital Dental X-Rays Elevate Your Care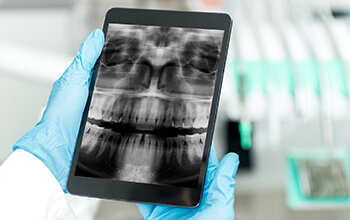 X-rays are an essential part of quality dental treatment, and our team is proud to have invested in a brand-new and improved way of understanding the realities of your oral health – digital X-rays with state-of-the-art CareStream technology. Now, you and Dr. David Weinman can study high-resolution images of your unique smile together and better understand the treatments that may be necessary to restore your oral health and happiness. Please contact our Westfield, NJ practice today to schedule your first appointment, or if you have any questions we can help you with. New patients from Union County, NJ and surrounding areas are always welcomed.
When compared to traditional film X-rays, digital radiography is superior for several reasons, including the following:
The images are captured by a small, comfortable sensor that's placed in the mouth, and they're immediately transferred to our computer system for viewing – no darkroom required.
The digital images are easy to manipulate in order to help patients better understand what they're seeing. We can rotate them, magnify them, and even color-code!
Instead of bulky physical storage, your new X-rays go right into our computer files with no excess waste. They can also be transferred to insurance companies or other doctors with the click of a button.
Radiation exposure is greatly reduced by up to 80-90%, which makes digital X-rays much safer for our patients as well.