Missing Multiple Teeth – Westfield, NJ
Fill the Gaps in Your Grin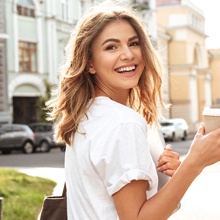 Even one lost tooth can have a devastating impact on your health, but losing several can be downright debilitating. That's why Dr. Weinman offers a wide range of replacement options that can fill gaps of any size in your smile, no matter if it's just a few teeth near the front or an entire arch. Our reliable restorations will help you enjoy your favorite meals again and give you the confidence to greet the world with a smile. Call us today if you or a loved one is missing multiple teeth in Westfield.
Your Options for Multiple Tooth Replacements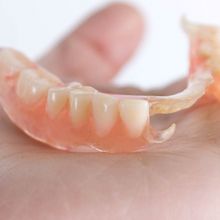 Dental Bridges: Made of two crowns and one or more prosthetic teeth, dental bridges can be used to replace up to 3 teeth in a row. They can either be anchored to your natural teeth or to dental implants. Bridges are often fixed in place, but they can also be removable depending on your preference.
Partial Denture: If there's empty space in a few different areas of your mouth, we can design partial dentures for you to fill them all at once. This prosthetic has a gum-colored base that is attached to lifelike teeth and is help in place by metal clasps.
Full Dentures: As the name implies, they take the place of a full arch of teeth. They sit directly on the gums, and a bit of adhesive can be used to give them additional stability. Patients who have lost all of their teeth can use full dentures to eat and speak normally again.
Enhance Your New Teeth with Dental Implants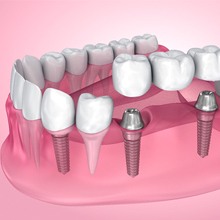 Bridges and dentures have been used to replace teeth for decades, but these reliable restorations can be made even better with the help of dental implants. Your new teeth will be supported by small titanium posts that have joined with the jaw to act as artificial tooth roots.
Why Get Dental Implants?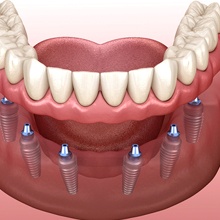 While traditional solutions for missing teeth can still significantly improve the quality of your life, there are many reasons why Dr. Weinman will recommend dental implants:
The implant posts will keep your prosthetic teeth secure, letting you eat and speak without having to worry about shifting dentures.
Since implants interface directly with the jaw, it can provide the stimulation that the bone loses when teeth are missing. This in turn prevents bone loss and helps you maintain an overall more youthful appearance. As another benefit to keeping your jaw in shape, you can expect your prosthetic to continue to fit for many years.
You can brush implant-retained prosthetics as if they were natural teeth instead of removing them for daily cleanings.
Regular bridges and dentures need to be replaced every 7 to 10 years; implants can easily last 30 years or longer.
Let Us Help You Find the Right Option
What kind of tooth replacement is right for you, and should it be supported by implants? Dr. Weinman will help you answer these questions during a one-on-one consultation. Afterwards, we can help you develop a treatment plan so that you'll be able to enjoy life with a full grin again.