Invisalign Clear Braces in Westfield
Maybe your teeth are crowded together in your mouth and look crossed, misaligned, or crooked when you smile. While you wish you could improve the appearance of your teeth, you don't want to endure the hassle of wearing braces. Fortunately, you don't have to when you are our patient. Dr. David Weinman can enhance your smile with Invisalign®, a treatment that imperceptibly straightens your teeth without conventional braces.
How Does Invisalign Work?
Invisalign uses a series of clear, custom-made aligners that you wear over your teeth. Each aligner moves teeth incrementally and you will replace them with a new aligner every two weeks. Using our special 3-D computer imaging technology, Dr. Weinman can plot your treatment plan, design your aligners, and even show you what the final positioning of your teeth will look like once your treatment is complete.
What Can I Expect With Invisalign?
With Invisalign aligners, no one will be able to tell that you are wearing them. Since they are custom-made, they feel extremely comfortable. You can even avoid the painful abrasions that conventional braces cause on the soft tissues in your mouth. You can remove Invisalign aligners before you eat and drink, so there are no food restrictions or problems with regular flossing or brushing.
How Long Will I Have To Wear The Invisalign Aligners?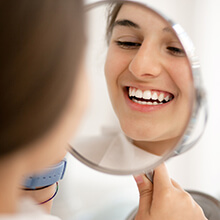 Although Dr. Weinman will need to examine your teeth every six weeks to make sure that your teeth are moving properly, the treatment takes less time than traditional braces. Once complete, your smile will be beautifully straight.
Not every situation can be treated with Invisalign, but our team can perform an evaluation to see if you can be helped with this new technology. You can schedule a consultation by calling our practice at 908-543-7629.