March 27, 2013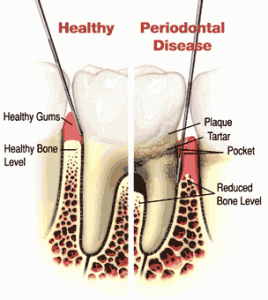 Today, a staggering majority of Americans are suffering from the common oral health problem known as gum disease – three out of four, to be exact! If that number seems a little big to you, it's probably because many of those people aren't even aware that there's anything wrong. While cracks and cavities are easily noticeable dental problems that have tried-and-true restorative solutions, gum disease (also commonly referred to as periodontal disease) is often a much more subtle condition – or it is until it reaches the most advanced stage, which can cause advanced deterioration, inflammation, and even tooth loss. Thankfully, Dr. Weinman and his staff take gum disease very seriously, and we'll be sure to thoroughly inspect your mouth for any tell-tale signs of the condition when you come into our Westfield office for a routine check-up. In the meantime, here are some common symptoms that can indicate the presence of gum disease:
Gums that bleed when brushing or flossing
Red, swollen, or tender gums
Persistent bad breath that even mouthwash doesn't help
Receding gums (teeth that look longer)
A sudden change in the way your bite feels
Loose, shifting teeth
In addition, here are some common risk factors for gum disease:
If you commonly smoke or use tobacco
If you're suffering from diabetes, cardiovascular disease, or another systemic disease
If you're 65 or older
If you regularly clench or grind your teeth
At his Westfield office, Dr. Weinman is committed to detecting and treating gum disease as early as possible in order to save his patients valuable time and expense, as well as preserve their oral health. We can provide Arestin for early cases, an antibiotic that is placed directly in the infected periodontal pockets in order to help heal your gums.
Don't let gum disease put a damper on your smile! Contact our office today to schedule an appointment and enjoy the concise, comprehensive care our dedicated team is known for. In addition to Westfield, NJ, Dr. Weinman is also happy to see patients from Scotch Plains, Farmwood, Cranford, Mountainside, and beyond!
Comments Off

on Could You Be Suffering From Gum Disease?
No Comments
No comments yet.
RSS feed for comments on this post.
Sorry, the comment form is closed at this time.