February 17, 2017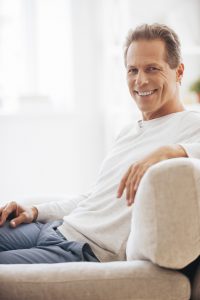 It is estimated, 69% of adults will be missing at least one tooth between the ages of 35-44. When even one tooth is lost, it significantly decreases your oral functions while placing your remaining natural teeth at risk for damage. Not to mention, an incomplete smile significantly lowers your confidence. Often, those with missing teeth turn to dental bridges in Westfield to regain a complete smile. As an affordable and effective solution for tooth loss, more than 15 million people in the Unites States use crowns and a bridge to replace missing teeth. If you are suffering from tooth loss, a dental bridge may be the solution you need for a complete smile.

Why are Dental Bridges Needed?
There are several reasons why you might have missing teeth, such as due to an extraction, trauma to the mouth, or being born with a missing permanent tooth. No matter the reason, the missing tooth needs to be replaced. Each tooth in the mouth plays an important role in oral functions, such as eating and speaking. When one tooth is lost, oral functions significantly decline.
A missing tooth also causes you to lose bone density. As a result, your remaining natural teeth lose proper support. This will eventually cause the teeth to shift, increasing the risk for tooth decay and gum disease. Eventually, the remaining teeth may become loose and fall out.
How Can a Dental Bridge Help Me?
As a dentist in Westfield, NJ, we commonly replace missing teeth with a dental bridge. Essentially, a bridge simply bridges the gap between missing teeth using an artificial option. Custom-made artificial teeth are attached to a framework, which is held in place with dental crowns. The dental crowns are attached to the adjacent teeth to hold the bridge in place.
How Can I Get a Dental Bridge?
If you are ready to choose the affordable and convenient option to replace missing teeth with a dental bridge, you need a consultation with Dr. David M. Weinman. He will evaluate your oral health and tooth loss to formulate a treatment plan. In some cases, you may need additional procedures before creating the device, such as if a portion of a broken tooth needs removed.
Your supporting teeth will be prepared to be fitted for the crowns to hold the bridge in place. Dr. Weinman will then take impression of the teeth. These impressions are sent to the dental lab to fabricate your bridge. While you wait for the permanent bridge to be made, you will be fitted with a temporary one.
After the dental lab has created your custom bridge, you will return to the office to have it placed in your mouth. In just two simple appointments, you will regain a complete, confident smile with an effective solution.
With your new smile, you must take care of the bridge with proper oral hygiene and maintenance to protect the longevity of the device and your supporting teeth.
If you are ready for a complete smile, it is time to schedule your consultation with Dr. Weinman today!
Comments Off

on Reasons You Need Dental Bridges in Westfield
No Comments
No comments yet.
RSS feed for comments on this post.
Sorry, the comment form is closed at this time.