July 7, 2023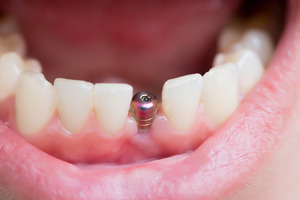 If you're thinking about getting dental implants, you may be wondering about the impact they could have on your oral health. Are they prone to the exact same issues as your natural teeth? Will you have to worry about protecting them from cavities? Or are there other threats you should be more concerned about? Here's what potential dental implant patients need to know.
Can Dental Implants Get Cavities?
Dental implants are said to come closer to mimicking your natural teeth than any other tooth replacement option. Fortunately, though, one thing they don't mimic is vulnerability to cavities! Dental implants typically consist of titanium, and the restorations they support are often made out of porcelain. These materials are very different from tooth enamel, and they tend to be quite durable in general; as a result, they are not at risk for decay.
What About Gum Disease?
While there's no need to worry about cavities forming on your dental implants, gum disease is a different story. Even after implant surgery, the nearby bone and gum tissue will be just as susceptible to bacteria attacks. Gum disease can be bad news for dental implants because it can cause them to lose the support they need to remain stable in your mouth. The longer gum disease goes unchecked, the more the tissues in your mouth will deteriorate, and the more likely your dental implants are to come loose.
How Can You Protect Dental Implants from Gum Disease?
Taking excellent care of your mouth is your best line of defense against gum disease. It's therefore important to take a look at your daily routine and make sure that you're maintaining habits that will help keep your dental implants safe. Here are some useful tips:
Brush at least two times a day. Only use a soft-bristled toothbrush that's unlikely to damage your dental implants.
Get into the habit of flossing every day. It may be helpful to look for brands that are specially made to clean around dental implants.
Pick up an antimicrobial mouth rinse at the store and make it a regular part of your oral hygiene routine.
Don't smoke. Tobacco is known to be a significant risk factor for gum disease.
Once your dental implants are in place, your dentist will be happy to give you further tips for taking care of your newly restored smile. Don't hesitate to speak up if you have concerns about keeping gum disease at bay.
About the Author
Dr. David M. Weinman loves meeting and working with people, and he has always been interested in science and art. All of these traits eventually led him to the dental field. He is a fellow of the International Congress of Oral Implantology and is able to provide in-office dental implant placement. To schedule a consultation with Dr. Weinman at his Westfield practice, please visit his website or call (908) 654-7200.
Comments Off

on Do You Have to Worry About Dental Implants Developing Cavities?
No Comments
No comments yet.
RSS feed for comments on this post.
Sorry, the comment form is closed at this time.