July 14, 2016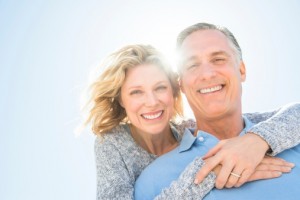 If you have periodontal disease—whether the early stage of gingivitis or the latter stage of periodontitis—seeking treatment is imperative to save your smile. Dr. Weinman and his team offer different kinds of gum disease therapy to treat your condition appropriately. Despite these professional treatments, advanced gum disease may necessitate extracting some teeth. In this case, dental implants can replace missing teeth and preserve your smile.
What are Dental Implants?
A dental implant is a small titanium screw that Dr. Weinman carefully embeds in your jawbone beneath the empty socket of a missing tooth. Titanium is a biocompatible metal, so rejection is extremely rare. Moreover, because the implant is biocompatible, it fuses well with the surrounding bone tissue. As such, the bone firmly anchors the implant and by giving your jaw a job to do, the implant stimulates healthy new bone tissue growth.
Implant Dentistry in Westfield
When you come to your dentist in 07090 for dental implants, Dr. Weinman will carefully examine your teeth and gums, and he will also check to make sure there is sufficient bone density in the locations where you need implants. Bone density is critical for an implant to provide a firm foundation for your eventual tooth restoration. If necessary, a bone graft procedure can be performed to add bone volume.
The Dental Implant Procedure
To place an implant, Dr. Weinman first anesthetizes the site and then makes a small incision in your gum tissue. The implant is then surgically positioned in your jawbone to provide the greatest security. Immediately after surgery, you'll want to be a bit careful about eating. Trying chewing on the opposite side of your mouth for a few days, and stick to a diet of soft foods, such as yogurt, pasta, eggs and soup.
As you heal from this minor oral surgery, the post and bone bond together. This can take anywhere from two to six months. At this point, you'll return to our office to have Dr. Weinman attach a dental crown or another type of restoration material to the implant. When completed, your new tooth will look, feel and function no differently than your natural teeth.
Call Our Office Today
Dr. Weinman and his staff can treat gum disease and provide natural-looking dental implants in order to preserve your smile. For more information or to schedule a consultation, contact the office of Dr. Weinman.
Comments Off

on With Dental Implants, You can Save Your Smile From Periodontal Disease
No Comments
No comments yet.
RSS feed for comments on this post.
Sorry, the comment form is closed at this time.