January 10, 2013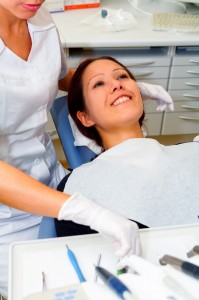 We're well into the New Year now, a time of new beginnings and resolutions to live better. Maybe you're interested in taking up a new hobby, or you might just want to spend more quality time with your family. While you're at it, why not add scheduling a dental cleaning and check-up with Dr. Weinman to the list? At our Westfield, NJ dental office, we're committed to providing you with effective and comfortable service that will be sure to send you off smiling.
Treat Your Teeth, Save Your Smile
Whether you're six or sixty, the American Dentistry Association recommends you see your dentist for a check-up at least twice a year. Of course, we understand that things happen – you lead a busy life, after all, and time can get away from you when you have several other responsibilities you're thinking about. But check-ups and cleanings are still important for your overall health – after all, it's the only way we can find and correct a variety of dental health problems when they first start.
During your cleaning, a skilled hygienist will check your mouth for any signs of gum disease. Gum disease can be a devastating condition to your teeth, with subtle symptoms that can't always be noticed by an untrained eye. By undergoing a cleaning, you're also protecting yourself from its ill effects.
Similarly, when undergoing a check-up, Dr. Weinman will carefully inspect each of your teeth for decay and injury, as well as how previous dental work is holding up. If left untreated, cavities, cracks, and the like can grow into much larger problems – by attending regular check-ups, we can monitor any issues and treat them quickly and effectively, saving you both time and money.
Are you ready to experience excellent, personalized dentistry? Dr. Weinman and his team here in Westfield, NJ want to give you the healthy, happy teeth you deserve. Don't delay a check-up any longer – call our office today with any questions you may have, or if you're ready to schedule an appointment. We also gladly serve patients from Westfield, Scotch Plains, Fanwood, Cranford, Mountainside, and beyond.
Comments Off

on Have You Had A Dental Check-Up Lately?
No Comments
No comments yet.
RSS feed for comments on this post.
Sorry, the comment form is closed at this time.