December 16, 2019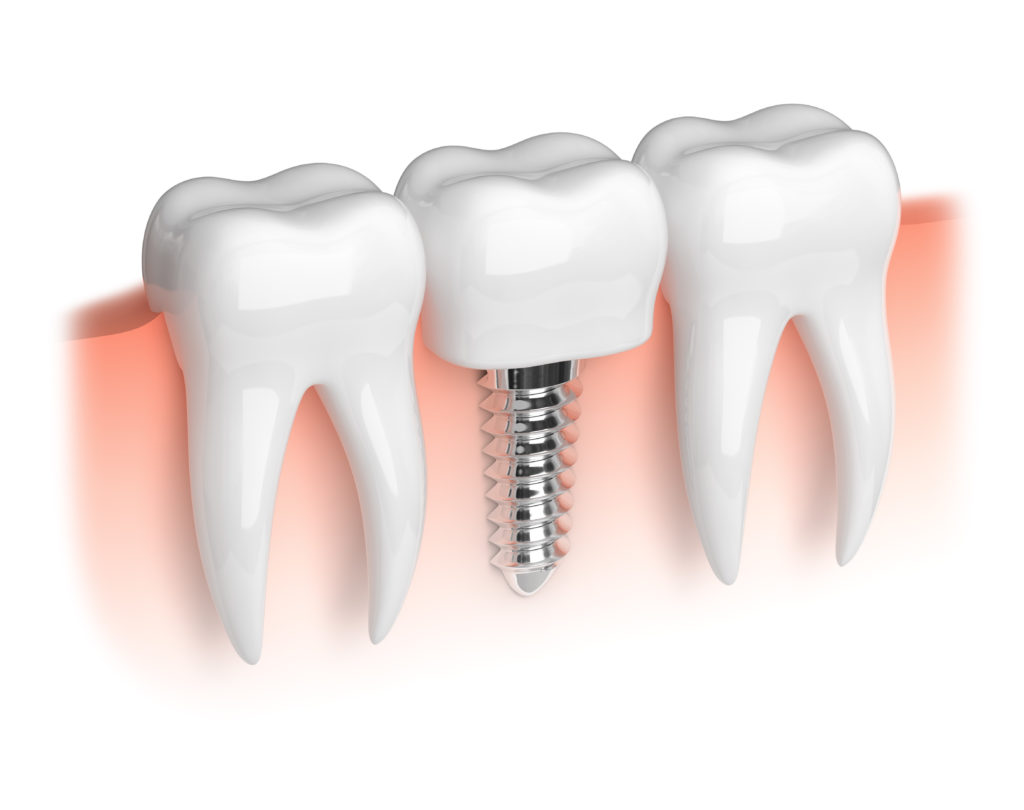 You're facing life without any of the teeth in your upper jaw, so you go to your dentist, thinking you'll need to get dentures. After examining your mouth, however, they say that you might be a candidate to get dental implants – and choosing one kind of restoration over the other could greatly impact your oral health and the overall enjoyment of your smile. Read on to learn more about the difference between dental implants and dentures.
What are Dentures and Dental Implants?
Everyone has probably already heard of traditional full dentures that take the place of an entire row of teeth. They're usually made out acrylic and consist of prosthetic teeth attached to a gum-colored base. Dentures sit on the gums and allow you to speak clearly and enjoy foods that you otherwise wouldn't be able to eat without your natural teeth.
Dental implants, on the other hand, are metal posts that are surgically inserted into your jaw. They don't replace teeth by themselves; rather, they serve as replacement roots for a crown, a bridge, or even dentures. Once the posts have joined with your jawbone, they can provide the stimulation it needs to stay healthy and strong.
How Do Dentures Compare to Dental Implants?
When deciding between dental implants and dentures, you'll need to consider the pros and cons of each treatment:
Getting dental implants requires surgery, while such procedures are unneeded when getting traditional dentures.
Dentures slip in your mouth, but dental implants will keep your new teeth firmly in place.
You can take dentures out of your mouth to clean them while dental implants are permanently fixed in your jaw.
Dental implants can last for a lifetime, while dentures need to be remade or relined every so often.
Getting dental implants prevents bone loss in your jaw; dentures do not have this benefit.
You'll need to weigh these advantages and disadvantages carefully before you decide on what kind of prosthetic you'll be getting to fill in the empty space in your smile.
What is the Cost of Dentures Compared to Dental Implants?
The cost for any kind of dental restoration will vary depending on several factors (such as your oral health and how many teeth are missing) but in general you can expect dentures to cost less than dental implants when you first receive them. Over time, however, the cost of replacing dentures every 7 to 15 years as well as maintenance could start to add up; meanwhile, dental implants last for decades, and you'll only need to give them the same care you give your natural teeth.
Dentures and dental implants both have benefits and drawbacks, and the state of your mouth could affect whether you're a candidate for either one. Talk to your dentist and gather as much information as you can before making any kind of decision!
About the Author
Dr. David M. Weinman became a dentist due to his interest in science and art. He is a fellow of the International Congress of Oral Implantology and can use implants to help patients in Westfield enjoy complete smiles that look and feel natural; he's also able to provide modern, attractive dentures. To schedule an appointment, visit his website or call (908) 654-7200.
Comments Off

on How are Dental Implants Different Than Dentures?
No Comments
No comments yet.
RSS feed for comments on this post.
Sorry, the comment form is closed at this time.