February 24, 2023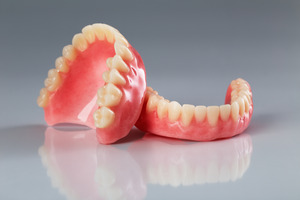 If you're getting dentures to restore your smile, any remaining natural teeth will need to be extracted first. However, the gums will need time to heal after teeth are removed, so you'll have to wait before you can receive your final restoration. But exactly how long will it take before you can get dentures? The answer can vary from patient to patient, but here are the basics of what you can generally expect.
When Can You Get Dentures After Tooth Extraction?
There are two main approaches to getting dentures following a tooth extraction. One method involves waiting for your gums to heal before having dentures placed. The healing process can take 6 to 8 weeks, so you'll have to go without teeth during that time. On the other hand, you also won't have to worry about adjusting to new dentures while your gums are still sore. Also, since your mouth might change shape during the recovery process, waiting will likely result in dentures that fit better.
The other option is known as "immediate dentures." For this approach, your dentist will have dentures made before the extraction process. Then, once your teeth have been removed, the restoration can be placed on the same day. The main advantage of immediate dentures is that you'll be able to enjoy new teeth right away. That said, you do need to be prepared to learn how to chew properly with dentures while your gums are healing.
When it comes to immediate dentures, it's important to remember that they're only intended as a temporary solution. Once your mouth has sufficiently healed, you'll receive your permanent dentures, which will be made out of higher-quality materials that can last for years with the right care.
What About Implant Dentures?
Getting implant dentures is a longer process compared to getting traditional ones. After your teeth are extracted, you'll typically need to wait several weeks before your mouth is ready for implant surgery. Then, once your dental implants are in place, they need to form a strong bond with your jawbone via a process called osseointegration, which can take 3 to 6 months. Generally, you'll have to wait until osseointegration is complete to have your dentures placed.
Simply put, the timeline for getting dentures after a tooth extraction isn't set in stone. Your dentist can give you an estimate of how long it will take in your particular case after they've had a chance to examine your mouth and consider the available options.
About the Author
Dr. David M. Weinman has spent years perfecting his dental skills and is proud to be providing Westfield patients with the highest level of dental care. His practice offers fully customized dentures to replace multiple missing teeth at once, and he can even perform the entire dental implant process under a single roof. To schedule a consultation with Dr. Weinman, visit his website or call (908) 654-7200.
Comments Off

on How Long Will You Have to Wait for Dentures After a Tooth Extraction?
No Comments
No comments yet.
RSS feed for comments on this post.
Sorry, the comment form is closed at this time.