May 11, 2020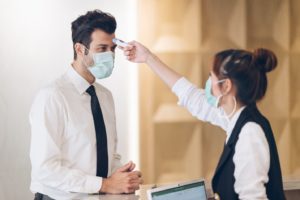 In these unprecedented times, every individual has a responsibility to take action to help prevent the spread of COVID-19. Businesspeople, including your dentist in Westfield, shoulder an even greater responsibility because the health and safety measure that they put into place can have a significant impact on the community's well-being. In this blog post, we'll discuss some dental safety protocols that your dentist is putting into place to protect both you and everyone else in the greater Westfield area.
How Are You Feeling?
It has always been standard practice for your dentist and their team members to ask patients about their health at every visit. Before COVID-19 broke out, this question served as a simple way to assess whether a patient's current health conditions or medications might be having an effect on their oral health. Now, however, it serves an even greater purpose; it helps your dental team to get a fair idea of whether you have experienced any COVID-19 symptoms.
In addition to asking general questions about your health, your dental team may also ask for a few specific details regarding whether you have shown any signs of COVID-19. For example, they might ask you if you have recently experienced a fever, cough, or shortness of breath. Many dental teams are also conducting contactless temperature checks of patients as they enter the office.
This simple and quick health screening can help both you and your dentist determine if you might have contracted COVID-19. If it seems likely that you have, your dentist may encourage you to self-quarantine for at least 14 days, contact your general healthcare provider, and inform anyone whom you have come into contact with recently.
Additional Measures
Of course, more than health checks are necessary in order for your dentist in Westfield, NJ to do their part in protecting both you and the community at large. Additional steps they are taking include:
Asking patients to wear a face covering when they are not in the operatory and receiving treatment
Spacing out appointments to allow time for cleaning between patients
Providing additional personal protective equipment for all team members
Increasing the use of plastic barriers on surfaces
Using high-vacuum suction to limit the spread of aerosols
Limiting the number of patients allowed in the office at one time
Having specially designated operating rooms for treatment and other rooms for procedures that do not produce aerosols
And more!
Your dental team is looking forward to seeing you when you come in for your next appointment. Your experience may be a little different than what you are used to, but you will still get to enjoy top-level oral health care. Together, you and your dentist can work to protect your smile from problems and protect the community from COVID-19.
About the Author
Dr. David M. Weinman is a dentist in Westfield. He earned his dental degree from the prestigious School of Dental Medicine at the University of Connecticut. In the years since then, he had refined his skills through training at the Pankey Institute and other well-known institutions. He is very serious about the health and safety of his patients and team members. To learn more about our team and how we are doing our part to protect the community from COVID-19, contact us at 908-654-7200.
Comments Off

on How Your Dentist Is Helping to Keep the Community Safe
No Comments
No comments yet.
RSS feed for comments on this post.
Sorry, the comment form is closed at this time.