September 16, 2014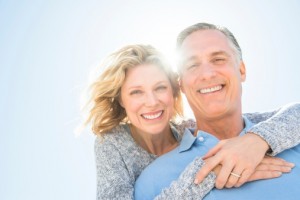 Thanks in large part to advances in dental technology, today's edentulous adults — or those who are missing all of their teeth — have a variety of restorative options from which to choose. Widely considered the best restorative option available today, dental implants are a versatile solution that allows for total tooth replacement in most cases. At David M. Weinman, DMD in Westfield, NJ, Dr. Weinman and his staff believe that each and every one of our patients deserves to enjoy the full benefits of a complete, healthy smile. This is why we are proud to offer a comprehensive menu of restorative dentistry solutions, including implant-retained dentures.
Why Choose Implant-Retained Dentures?
A chief complaint of patients who wear a mandibular denture is a general lack of retention. Dentures can be prone to slipping and sliding, making eating and speaking difficult and potentially embarrassing. An ill-fitting prosthesis can even cause a substantial amount of pain, particularly when the patient attempts to chew certain foods. Fortunately, dental implants make it possible to secure an overdenture to the jaw in a way that feels, functions, and looks like the patient's natural dentition.
With tiny, biocompatible posts called dental implants, Dr. Weinman can firmly attach a custom denture to the gums and jaw to improve strength, comfort, and aesthetics. In addition to restoring your smile and your ability to enjoy your favorite foods comfortably, dental implants effectively mitigate the bone density deterioration that occurs following tooth loss. By stimulating the tissue in the jaw bone, your dental implants help your jaw maintain its shape. Many edentulous patients who have experienced problems with traditional dentures say that implant-retained dentures are the ideal tooth replacement solution for their needs.
Regain Your Smile and Your Confidence
Westfield, NJ implant dentist Dr. Weinman understands that each patient has complex, unique needs when it comes to tooth replacement. We'd love to be your trusted partners in your journey toward a fully functional and beautiful new smile with implant-retained dentures and our other restorative dentistry solutions. Contact our office in Westfield, NJ today to schedule your visit and to explore the possibilities afforded by implant dentistry. Our conveniently located dental practice proudly serves the oral healthcare needs of families from throughout Westfield, Scotch Plains, Cranford, Mountainside, Fanwood, and beyond.
Comments Off

on Reclaim Your Smile and Your Life with Implant-Retained Dentures in Westfield, NJ
No Comments
No comments yet.
RSS feed for comments on this post.
Sorry, the comment form is closed at this time.