May 2, 2019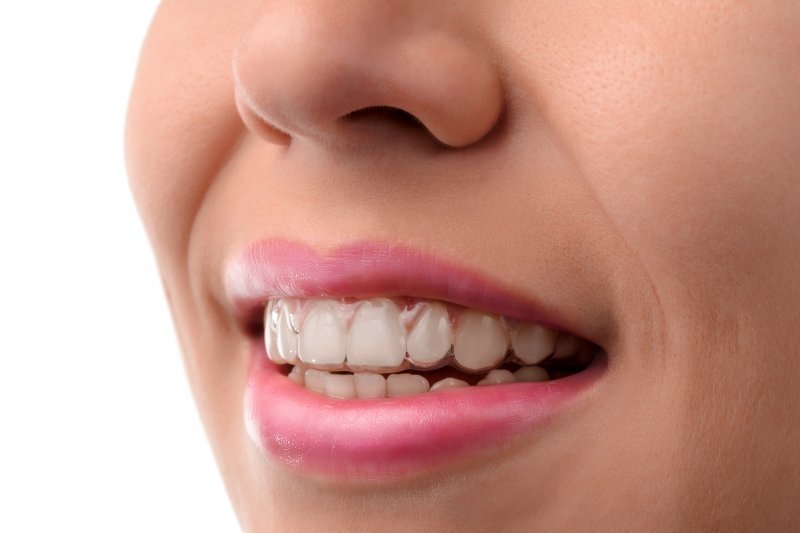 No one enjoys walking around with crooked teeth, especially if you're an adult. As a professional, it's important to maintain a clean and mature look, but how can you do that if your teeth aren't straight? If you've chosen Invisalign in Westfield, NJ, to improve your smile, you might be trying to adjust to these new foreign objects in your mouth. To help keep you on the path to a successful treatment, here are 6 tips to wearing your Invisalign braces.
Wear Them All the Time…Literally, 24/7
While this one might seem obvious, it's imperative that you wear your aligners all the time if you want a successful treatment. The only time you should be taking out your trays is to eat and/or drink or when cleaning them. With traditional braces, you cannot remove them, but with Invisalign in Westfield, you will be tempted to remove them. You must stay committed to the treatment process if you want straighter teeth in the end.
Carry a Protective Case
When you do remove your aligners, be sure to carry a protective case with you. This will not only protect them from anything that might be floating around in the air, but it will ensure they stay intact should you accidentally drop them.
Watch Out for Stains
Want to keep your aligners clear so no one will notice? Avoid stain-causing foods and drinks. While you shouldn't wear them while eating or drinking, the things you consume may cause your teeth to become stained. When reinserting your aligners, the color can transfer to your trays, causing them to lose that clear, shiny texture and make them more noticeable.
Be Serious About Practicing Good Oral Hygiene
Just because we tell you to wear your Invisalign braces 24/7 doesn't mean you can avoid good oral hygiene habits. You'll need to continue brushing your teeth twice a day for two full minutes. In addition, you must floss at least once a day and rinse with an antiseptic mouthwash. This will prevent bacteria and food particles from sticking to your teeth and gums and potentially transferring to your aligners when you reinsert them.
Clean Your Trays Thoroughly
While you're brushing and flossing each morning and night, make sure to spend some time cleaning your trays. The bacteria and dried saliva that gathers in them throughout the day and overnight needs to be removed to keep them clean. You can use the Invisalign Cleaning Crystals if you choose, or you can use a toothbrush, clear soap, and lukewarm water to clean them. Just make sure to never use hot water on your trays, as it is can warp the plastic.
Keep Your Previous Set of Aligners
If this sounds silly, you might be surprised just how important it is to keep your previous set of aligners. Say you're on vacation and you accidentally break your trays. Having a previous set will keep your teeth from shifting too much and prevent less of a delay in your treatment. Should this happen, it's important to call your dentist in Westfield as soon as possible so he can direct you on what to do and begin the process of ordering you another set.
If you use these tips, you'll be well on your way to a straighter smile in no time.
About the Author
Dr. David M. Weinman, DMD, graduated from the State University of New York at Buffalo before enrolling at the prestigious School of Dental Medicine at the University of Connecticut, earning his Doctor of Medical Dentistry degree. Committed to building rewarding and lasting relationships with his patients, he offers a wide array of dentistry services to help his clients achieve a beautiful smile. Whether it's dental crowns, teeth whitening or Invisalign, Dr. Weinman can provide the best treatment with personalized care. To learn more about him or our services, contact us at (908) 654-7200.
Comments Off

on Want a Straighter Smile? 6 Tips to Wearing Invisalign in Westfield, NJ
No Comments
No comments yet.
RSS feed for comments on this post.
Sorry, the comment form is closed at this time.