September 24, 2022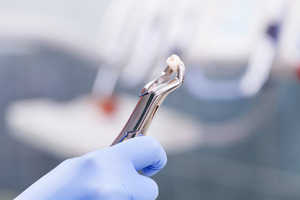 Gum disease may start as a mildly uncomfortable condition, but given enough time it can lead to a wide range of oral health issues such as gum recession or loose teeth. If your gum disease is especially severe, there's a chance that your dentist might suggest having your teeth extracted. Will this help cure your gum disease in Westfield, or is there another reason why you might need to have your teeth removed? Here are the facts.
Why Tooth Extractions Might Be Part of Gum Disease Treatment
First of all, it needs to be noted that removing teeth does not directly treat or cure gum disease. After all, gum disease is caused by an infection of the gum tissue; extracting teeth does not address this problem. That said, there is a reason why it might be a necessary step.
Untreated gum disease can take a toll on the bone and gum tissue holding the teeth in place. Over time, said tissues may start to diminish, causing the teeth to come loose. Not only does this make it harder to chew your food effectively, but it also makes it more likely that bacteria and food particles will build up in the pockets between the teeth and gums, leading to further infection. As such, if the tooth can't be salvaged, having it safely removed may be the best option for protecting your oral health.
How Can You Avoid Needing a Tooth Extraction?
A tooth extraction is always a last resort. As long as you seek treatment before your gum disease reaches its most severe stages, you should be able to prevent any lasting damage to your jaw – and thus, avoid the need for tooth removal.
Many dentists offer scaling and root planing as a way to treat gum disease before it becomes too advanced. The procedure involves removing bacteria from above and below the gumline before smoothing out the roots of the teeth. Smoother roots are more difficult for bacteria to cling to, which lowers the risk of future buildups.
Antibiotics can also be used to fight the bacteria contributing to gum disease. Many dentists use Arestin, which is a special powder that can be applied directly to the pockets that form between the teeth and gums due to gum disease. The medication in the powder will be gradually released to keep bacteria levels under control, giving your gums a chance to heal and reattach to the teeth.
In short, tooth extractions in Westfield may sometimes be an unfortunate necessity due to gum disease, but if you seek care early, you're less likely to need the treatment. Be sure to give your dentist a call right away as soon as you think you might have gum disease.
About the Author
Dr. David M. Weinman earned his Doctor of Medical Dentistry degree at the University of Connecticut. He continues to refine his skills to this day to continue bringing his patients the highest level of dental care available, from basic preventive care to advanced restorative care. At his practice in Westfield, he can offer a full range of gum disease treatments, and he can perform comfortable tooth extractions if needed. To schedule a consultation, visit his website or call (908) 654-7200.
Comments Off

on Will Having Teeth Removed Help Stop Gum Disease?
No Comments
No comments yet.
RSS feed for comments on this post.
Sorry, the comment form is closed at this time.