April 12, 2023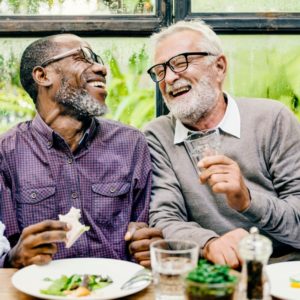 The hardest part of any process is simply starting, right? This definitely applies to people who have just gotten dentures. While the aesthetic benefits are immediate, it can take a little time before a person feels truly comfortable eating and speaking with their new teeth. As you might have guessed, the first month has the potential to be the most awkward period, but by taking a few key steps, patients can quickly get to the point where they don't have to think twice about their prosthetic.
Tip #1: A Gentler Diet
One of the biggest benefits of dentures is that they enable someone with missing teeth to eat whatever they like, particularly when it comes to difficult-to-chew foods like cooked meats. However, someone who has just gotten dentures should NOT go out and order steak that night!
Instead, it's recommended that they stick to a soft food diet for at least a week or more while their mouth, gums, and jaw adjust. This means items like scrambled eggs, soup, yogurt, and pudding should make up most of their meals. This will help someone get used to chewing and also be gentler on the gums, which will need to get used to the pressure that comes from eating.
Tip #2: Read, Speak, or Sing!
As you can imagine, trying to speak with a new denture can feel a bit odd as the tongue has gotten used to the person talking with missing teeth. A patient will naturally learn how to speak clearly with their denture over time, and to speed up this process, they can read aloud, talk with friends and family, or sing in the shower! This will give the tongue the "training" it needs to work around the teeth.
Tip #3: Get in a Routine
Ideally, a patient should brush their dentures at least twice a day and soak them at least once a week with a dedicated cleaning solution. Obviously this will be a bit different compared to regular brushing and flossing because the dentures have to be taken out, but it's essential to the long-term health of the mouth as well as the longevity of the prosthetic. This routine should start immediately so that it quickly becomes part of a patient's day-to-day life. After a week or so, it should be automatic and not require a second thought.
Getting used to life with dentures takes a little effort, but the results are more than worth it. These simple tips will give a patient peace of mind when it comes to their oral health and ensure that the next time they sit down for a meal or smile for a picture, they can trust their new teeth will look and feel great.
About the Author
Dr. David M. Weinman combines his compassion with art and science when taking care of his patients, and he has spent years perfecting his dental skills while proudly serving Westfield. He can provide fully customized dentures to replace multiple missing teeth, and he can even offer the most secure fit possible with implant dentures. To schedule a consultation with Dr. Weinman, visit his website or call (908) 654-7200.
Comments Off

on Your Guide to the First 30 Days with Dentures
No Comments
No comments yet.
RSS feed for comments on this post.
Sorry, the comment form is closed at this time.