January 20, 2015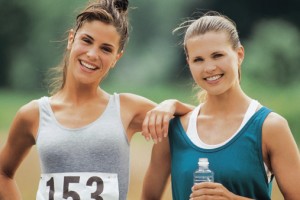 A solid exercise regimen can do wonders for your overall health, but do you know how your workout routine may be affecting your teeth and gums? Recent research has uncovered a correlation between strenuous exercise and an increased risk for potentially serious oral health problems, including gum disease and tooth decay. At David M. Weinman, DMD in Westfield, NJ, Dr. Weinman and his staff place an immense amount of emphasis on preventive dental care for patients of all ages, particularly athletes at risk for oral health complications.
Why Runners Have More Cavities
While we would certainly never advise that our patients quit their healthy workout routine, we do highly encourage athletes to be especially aware of their oral health in addition to their overall physical state. Running, for example, can be great for muscle tone, joint strength, and cardiovascular health, but it can also wreak havoc on your gums and teeth. This is because of a rather substantial change in saliva production and composition during and after a particularly demanding run.
Athletes and non-athletes alike were tested by researchers at a hospital's dental lab in order to determine the cause of oral health issues in runners. Saliva was collected from both groups while the patients were sitting still and relaxed; the results showed no indication of heightened risk. When the athletes were sent off on an arduous run, however, something of interest was discovered. During and after exercise, saliva production actually lessened and the runners' mouths became more alkaline.
Diminished saliva and an alkaline environment within the mouth have been linked to enamel erosion, dental caries, and an increased risk for periodontal disease. While previous studies had hinted at sugary sports drinks as a possible cause of poor oral health in runners, this new research has proven otherwise. Fortunately, there is an easy solution for this unique problem in athletes: regular visits to Dr. Weinman for preventive dentistry checkups and cleanings. We'll help you identify your risk factors for cavities and gum disease, and develop a comprehensive treatment plan that takes your athletic lifestyle into consideration when protecting your smile.
Healthy Smile, Healthy Body
If you're an athlete, you already take great care of your body. If you haven't visited the dentist in more than six months, now is the time to start taking better care of your smile. Contact us today to schedule your visit with Dr. Weinman and our experienced, knowledgeable staff. We look forward to helping you achieve and maintain optimal oral health for years to come. Conveniently located in Westfield, NJ, our office proudly serves families from nearby communities in Cranford, Scotch Plains, Mountainside, Fanwood, and more.
Comments Off

on Is Your Workout Hurting Your Smile? Athletes and Oral Health
No Comments
No comments yet.
RSS feed for comments on this post.
Sorry, the comment form is closed at this time.