July 14, 2015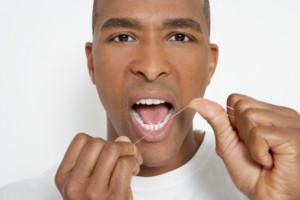 A recent study from Bupa, an international health organization, revealed that 81% of Britons believe their smiles are unattractive in photos, and 28% refuse to smile for photos all together. Similar studies conducted in the United States reveal similar findings, and an even higher percentage of people who feel pressured by celebrity photos to perfect their smiles. While our vanity may influence us to want a perfect smile, what we may not realize is the importance of flossing to maintain our oral health and smile radiance, retain gum tissue and bone density, and remove tooth decay causing bacteria. If you need a superior preventive, family dentist, Westfield, NJ call Dr. David M. Weinman to schedule an appointment today. The expert dental hygienists at our practice can help you learn to love flossing, and keep your smile healthy and beautiful for life.
Benefits of Flossing
It's been six months. Your dental hygiene appointment is in two days, and you haven't flossed since the last checkup. You don't want yet another lecture about flossing from your hygienist, so you decide to cram six months of flossing into the next two days. The result? Bleeding, irritated, swollen gums, and a profound distain for the entire subject of flossing. You go to your hygiene appointment, and hear the same refrain, "How often do you floss?" Only now, it's coupled with, "Your gums seem irritated. That could be a sign of gum disease." That's it! You think. Flossing is useless.
Unlike tooth brushing which makes your mouth look, feel, and taste clean right away, flossing's early effects can be mostly negative. If you don't floss on a regular basis, your gums will likely become irritated as you remove bacteria that has built up. Many patients report flossing once or twice directly after dental checkups and in the days leading up to their appointment, but rarely flossing at any other time. This inconsistency probably does more harm than good because it leads patients to believe flossing can only be unpleasant.
However, the benefits of regular flossing far outweigh any initial discomfort and irritation. In fact, recent studies showed that flossing not only helped to improve oral health, but the positive effects on oral health improved overall health too. Some benefits of flossing include:
Significantly reduced bacteria – less cavities and $$$ spent to treat tooth decay
Reduced Risk for gingivitis and periodontitis – the most commonly sighted benefit is one of the most important since more than ½ of Americans suffer from some form of gum disease
Improved breath – halitosis or bad breath is often caused by bacteria that could be removed or reduced by flossing keeping your breath fresher longer than brushing alone
Better overall health – gum disease has been linked to an increased risk for cardiovascular disease, diabetes, respiratory disease and other systematic disease in a recent Centers for Disease Control and Prevention study
Flossing Tips from your Preventive Dentist, Westfield
Many of the issues associated with flossing stem from irregularity of practice, but there are some things you can do to make flossing more pleasant from the outset. Here are some things you should consider to improve your flossing routine:
Habit – Just in case you missed it, the most important part of flossing may just be doing it every day even if you're tired or busy or just don't want to do it.
Floss type – Choosing a floss that you like can help make the task more enjoyable. There are numerous types of floss, but we recommend polytetrafluoroethylene (PTFE) especially for patients new to flossing. PTFE flosses are also called shred free/resistant, and are made from one fiber rather than numerous combined, rope-like fibers in nylon floss.
Floss right! – A number of patients who are dedicated enough to floss everyday never learn the proper technique. During your next hygiene appointment, ask our hygienists to show you the best way to floss your teeth. Until then, just remember that the whole point of flossing is to remove bacteria between teeth and between teeth and gums. So, if you're not flossing all the way under the gum line, you're not flossing. The easiest way to floss is using the "C" method. Gently glide the using a back and forth movement into the spaces on either side of each tooth in a "C" shape. Doing in this around the front and back of each tooth is extremely effective.
Contact Dr. Weinman for Great Westfield Dentistry
We know what you're thinking right now. That's it, I'm going to start flossing, and this time I mean it. You may even be in your car on the way to your local pharmacy to stock up on fun flossing equipment. We appreciate the enthusiasm, but encourage you to keep it simple and start slow. Choose a floss you think will be gentle and effective, then set a goal to floss at least 3 or 4 times a week for a month. After the first month, we know your teeth will look and feel better, and you'll want to change your oral hygiene routine to include daily flossing. If you need a general checkup or want to find out more about flossing, call the office of Dr. Weinman to schedule an appointment today. Our Westfield, NJ office welcomes patients from surrounding areas including Scotch Plains, Fanwood, Cranford, and Mountainside.
Comments Off

on Flossing is Essential!
January 20, 2015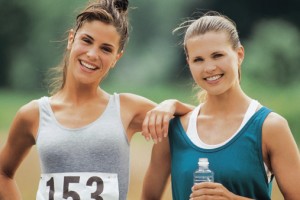 A solid exercise regimen can do wonders for your overall health, but do you know how your workout routine may be affecting your teeth and gums? Recent research has uncovered a correlation between strenuous exercise and an increased risk for potentially serious oral health problems, including gum disease and tooth decay. At David M. Weinman, DMD in Westfield, NJ, Dr. Weinman and his staff place an immense amount of emphasis on preventive dental care for patients of all ages, particularly athletes at risk for oral health complications.
Why Runners Have More Cavities
While we would certainly never advise that our patients quit their healthy workout routine, we do highly encourage athletes to be especially aware of their oral health in addition to their overall physical state. Running, for example, can be great for muscle tone, joint strength, and cardiovascular health, but it can also wreak havoc on your gums and teeth. This is because of a rather substantial change in saliva production and composition during and after a particularly demanding run.
Athletes and non-athletes alike were tested by researchers at a hospital's dental lab in order to determine the cause of oral health issues in runners. Saliva was collected from both groups while the patients were sitting still and relaxed; the results showed no indication of heightened risk. When the athletes were sent off on an arduous run, however, something of interest was discovered. During and after exercise, saliva production actually lessened and the runners' mouths became more alkaline.
Diminished saliva and an alkaline environment within the mouth have been linked to enamel erosion, dental caries, and an increased risk for periodontal disease. While previous studies had hinted at sugary sports drinks as a possible cause of poor oral health in runners, this new research has proven otherwise. Fortunately, there is an easy solution for this unique problem in athletes: regular visits to Dr. Weinman for preventive dentistry checkups and cleanings. We'll help you identify your risk factors for cavities and gum disease, and develop a comprehensive treatment plan that takes your athletic lifestyle into consideration when protecting your smile.
Healthy Smile, Healthy Body
If you're an athlete, you already take great care of your body. If you haven't visited the dentist in more than six months, now is the time to start taking better care of your smile. Contact us today to schedule your visit with Dr. Weinman and our experienced, knowledgeable staff. We look forward to helping you achieve and maintain optimal oral health for years to come. Conveniently located in Westfield, NJ, our office proudly serves families from nearby communities in Cranford, Scotch Plains, Mountainside, Fanwood, and more.
Comments Off

on Is Your Workout Hurting Your Smile? Athletes and Oral Health