April 23, 2013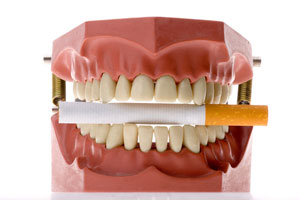 April is Oral Cancer Awareness Month, which allows us the perfect opportunity to share a little more information about this little-known but incredibly destructive oral health condition. This year, tens of thousands of Americans will be diagnosed with oral cancer; what's worse, only a little more than half of those people will survive more than five years. These are sobering numbers, but don't panic just yet – Dr. Weinman and his dedicated staff in Westfield, NJ are committed to keeping your mouth healthy and happy throughout the years, which includes keeping an eye out for any signs of oral cancer, as well as ensuring that patients are well-informed about the common symptoms of this deadly disease.  These include:
Excessive pain, tenderness, or numbness in the mouth or lips
Flat, painless, white or red spots or sores in the mouth
A sudden color change of the oral tissue
A sore that bleeds and doesn't heal
A small, eroded area or lump in the mouth
Of course, your dentist should be your first line of defense in the fight against oral cancer. Routine check-ups twice a year will allow our team to keep a close eye on your teeth and tissue and quickly treat any suspicious areas. In fact, when oral cancer is detected and dealt with early on, it dramatically decreases the chances of health problems later on!
While a majority of patients suffering from this condition are heavy users of tobacco and/or alcohol, it's important to remember that nearly a fourth of cases occur in people who don't participate in any known risk factors. That's why you need to seek out the dedicated help of Dr. Weinman and his staff! We'll be sure to treat your teeth well. Contact our Westfield, NJ office today to schedule an appointment. We're also happy to treat patients from Scotch Plains, Farmwood, Cranford, Mountainside, and beyond!
Comments Off

on Recognize Oral Cancer Awareness Month by Coming in to See Dr. Weinman for a Check-Up
No Comments
No comments yet.
RSS feed for comments on this post.
Sorry, the comment form is closed at this time.