November 20, 2014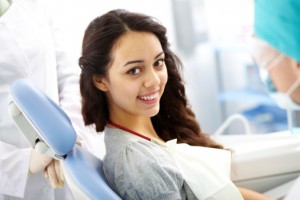 For more than 150 years, cavities and other forms of tooth damage have been repaired with an amalgam of liquid mercury, silver, copper, tin, and other trace metals. While sufficient for restoring the structural integrity of a weakened tooth, amalgam fillings can be unsightly and unpredictable. Composite resin fillings – often referred to simply as tooth-colored fillings – are an aesthetically pleasing alternative to amalgam fillings, offering a natural look and long-lasting durability. At the office of Dr. David M. Weinman in Westfield, NJ, Dr. Weinman offers a comprehensive selection of restorative dentistry solutions, including tooth-colored fillings.
Advantages of Composite Resin Fillings
The most obvious reason that patients prefer composite resin fillings to silver amalgam fillings is the cosmetic benefit that they offer. Meticulously customized to match the shade of your existing enamel, tooth-colored fillings blend seamlessly into your smile for a completely natural appearance.
Composite resin's cosmetic advantages aren't the only reason that they've become more popular over the past 20 years; unlike amalgam fillings, tooth-colored fillings are resistant to changes in temperature. Teeth repaired with mercury amalgam fillings are substantially more susceptible to microfractures that eventually compromise the strength of the enamel, whereas composite fillings maintain their shape and size regardless of exposure to heat and cold. Tooth-colored fillings also require that less of your natural tooth structure be removed, making them a considerably more conservative dental solution as compared to amalgam fillings.
Schedule Your Visit Today
Whether you are in need of a new filling or you are interested in improving the appearance of your smile with composite resin restorations, Dr. Weinman and his experienced, friendly team of dental professionals can help. Contact our office in Westfield, NJ today to schedule your consultation, and discover for yourself what a difference our genuinely caring approach and advanced technology can make in your next dental experience. Our warm, welcoming Westfield dental office is proud to serve patients from throughout the surrounding areas of Cranford, Scotch Plains, Mountainside, Fanwood, and more. We look forward to serving you and helping you achieve the smile you've always wanted with cosmetic and restorative dentistry.
Comments Off

on Tooth-Colored Fillings vs. Amalgam Fillings: Helpful Information from Dr. Weinman
No Comments
No comments yet.
RSS feed for comments on this post.
Sorry, the comment form is closed at this time.