May 10, 2015
Westfield, NJ dentist Dr. David Weinman and his staff are dedicated to bringing the best dental care in the area. Included in this premier dental care is the latest and greatest in cosmetic dentistry services. One of our most popular cosmetic dentistry services is teeth whitening. It's all the rage and important to understand why and when teeth whitening treatment is recommended.
Our Westfield, NJ Teeth Whitening Services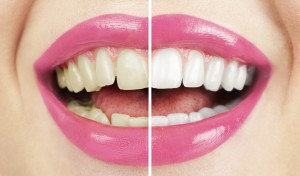 Over time, and depending on what you drink or eat, your teeth are susceptible to staining. Oftentimes, stains are so bad that some people are reluctant to crack a smile out of embarrassment. Help is officially here. If you'd like whiter, brighter teeth that you want to show off, our teeth whitening services are perfect. Whitening has provided younger, fresher smiles to countless patients worldwide.
Teeth whitening services include:
Boost Whitening (in-office)
Take-home whitening trays
Boost Whitening is a one-hour treatment that can bright your smile fast. It features patented blue-light technology, which activates the specially formulated whitening gel for maximum bleaching power. The high concentration of fluoride helps minimize post-whitening sensitivity. Your teeth can lighten up to 3-4 shades brighter in just one appointment!
Take-home whitening trays are custom-made with prescription strength whitening gel that you can use at home. After just two weeks of daily use, your teeth can lighten 3-4 shades.
Why Teeth Whitening?
 There are a lot of advantages to getting your teeth whitened. Considering your teeth are one of the first things another person notices, it's important to take care of your pearly whites, and that includes teeth whitening. Who honestly wouldn't want a brighter, whiter smile?
Here's a list of some advantages:
Your appearance is dramatically improved
It's a huge self-confidence booster
Improves attractiveness
It's very affordable
It promotes a healthier lifestyle
Minimizes the appearance of facial wrinkles giving way to a youthful look
As you can see, the advantages are plentiful. Confidence is palpable, especially when you have a great smile to match it with. See the difference for yourself!
Make An Appointment Today
To schedule an appointment, speak with our friendly staff in Westfield, NJ. We also extend service to our neighbors in Scotch Plains, Fanwood, Cranford, Mountainside and surrounding areas. Dr. Weinman and our team look forward to meeting you and making you smile.
Comments Off

on Teeth Whitening with Dr. David Weinman
Older Posts »